5 Key Obstacles to Supporting Homebound Instruction
Students occasionally require homebound instruction for a variety of reasons — medical or behavioral health treatment, short-term illness or suspension. Supporting academic progress is critically important for these students but delivering instruction in a cost-effective and timely manner can be challenging.
Matching Teachers to Student Needs: Just like in the classroom environment, the goal for homebound students should be to personalize instruction to each individual's needs. However, the instructional needs of students receiving homebound instruction can be quite broad. Homebound teachers need to be able to support students on IEPs, support students requiring AP-level instruction, and support students' social and emotional needs—as well as be able to cover a wide array of subject matter from phonics to photosynthesis. Districts often find that matching teachers' strengths to each student's specific needs becomes a seemingly impossible task.
Coordinating Time and Place: Once the appropriate teacher has been identified to meet with the student, the process of scheduling the session can present significant obstacles. Aligning busy schedules of students and teachers can limit the available lesson times—especially if the teachers are only available during afterschool hours. Depending on the student's circumstance, districts often conduct lessons in a public place, such as the local library. Bear in mind that because this requires the student to find transportation to the lesson, there is a greater chance of logistical problems and potential cancellations.
In-home Lessons Present a Risk: Traveling to an unfamiliar home or an unfamiliar neighborhood can present safety risks for the teacher. With safety always being a primary concern of the school community, sending an unaccompanied teacher into unknown settings is often something districts hesitate to do. Once inside the home a parent or guardian is typically required to be present during the lesson; however, family members can sometimes be disruptive. In other cases, the parent is not present at all, which presents a liability risk for the district.
Travel Costs Add Up: Whether instruction is being delivered in the home or in a public place, teachers often spend as much time traveling to meet with students as they do providing the instruction. Aligning teacher expertise with student needs (and availability) can result in teachers spending significant amounts of time crisscrossing the district to deliver homebound instruction. Furthermore, in addition to the time inefficiencies, teachers can incur significant mileage costs—particularly in districts covering wide geographic areas.
Avoiding Under- and Over-staffing: The number of students requiring homebound instruction tends to ebb and flow throughout the year, especially when you consider the needs of students in behavioral health treatment. The months of October, March and May tend to present the greatest volume of students needing homebound services. Many districts lack the ability to scale-up or scale-down to meet those needs, and as a result, the district will be either short-staffed in the busy months or will be over-staffed in the slower months.
Have you considered…
A growing number of districts are turning to third-party virtual teaching services to more efficiently meet their homebound students' needs. Delivered in the home via video-conferencing technology, virtual teaching services enable the district to match student needs to a wide range of skilled teachers, while providing a convenient, scalable and cost-effective solution for keeping homebound students on track.
Schedule a time to learn more about virtual teaching.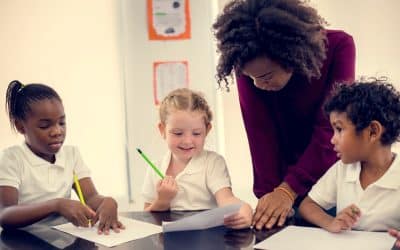 As the start of the school year approaches, many school district administrators...
read more