Decoding the World of Educational Policy in the Hospital Environment
In the Healthcare environment, policy is everywhere. One type of policy that may cause confusion, however, is Educational Policy—specifically how educational policy impacts student-patients and what is required of the hospitals where they are admitted.
Student-patients have rights that ensure they are able to make academic progress while in a home or hospital setting. While much of the responsibility for arranging services fall on the student's school district, hospitals and families should be aware of the educational opportunities that student-patients are entitled to. In fact, all state regulatory agencies and/or accrediting bodies that oversee treatment programs for student-patients require that education programs be provided. Therefore in order to remain compliant, hospitals and treatment facilities need to ensure access for continued learning.
While regulations are state specific, they clearly indicate that students who are medically unable to attend school for certain duration of time must be provided with tutoring or other educational services.
In Massachusetts for example, regulations state that:
Educational services must be provided when a physician determines that the student will be medically unable to attend school for no less than 14 days, or will likely miss 14 or more days over the course of the year due to recurring home or hospital stays.

All public school students and students with a disability that are eligible for special education services in private school settings qualify for home and hospital tutoring.

Home and hospital educational services must begin without due delay when physician notice is given—services should be arranged immediately without waiting for the 14 days to pass.
How hospitals can remain compliant in educational policy
For hospitals and rehabilitation facilities that treat student-patients, it is important to ensure that there is an education program or procedures in place that allows for the provision of academic tutoring. While it is the district's primary responsibility to ensure services are provided, facilities need to create an environment conducive to learning, in addition to remaining compliant for their own regulatory bodies.
Educational services can be delivered in a small group setting or on a one-to-one basis, and require communication and collaboration between the medical team, school district personnel, and the student's parent or guardian.
As requirements vary from state to state is it important to have a point of contact or a team that is knowledge about providing educational services, and that can coordinate the different components and paperwork necessary for processing. In this role the person may also:
Communicate directly with parents and school district personnel to arrange services;

Work with admissions to ensure necessary paperwork is included in admission packets;

Obtain physician's consent for the need for academic tutoring;

Handle billing for services if provided in-house and provide documentation to the student's district of curriculum and number of hours services were provided.
Other Important Things to Consider
When discussing the best way to remain compliant in regards to education policy in healthcare environments, it is important to keep in mind additional aspects that need to be addressed.
Visitor/ Volunteer Orientation:

If allowing school district tutors to provide direct services to student-patients, consider if each will need to attend hospital orientation or complete paperwork regarding HIPPA and other hospital policies due to the sensitive nature of the position.

Scheduling:

Student-patients often attend a variety of different treatments and group or individual therapies. This may make scheduling educational services difficult. Consider setting up a group academic time around other scheduled therapies, or having in-house tutors that can schedule one-to-one sessions with multiple students throughout the course of the day.

Quality: Healthcare facilities looking to earn strong Patient Feedback and quality ratings should go above and beyond simply offering educational services or providing a room for tutoring. Ensuring that the quality of both the teachers/tutors and the curriculum is essential for demonstrating the commitment a hospital or treatment center has for the student-patient as a whole. Quality programming will also create strong relationships with school districts, families, and the community.
Creating and running a hospital education program, including all of the steps necessary to remain compliant, can be a difficult, expensive, and time-consuming task. Education, Inc. works with partners across the country in many different ways to ease the burden of providing services, including handling administrative tasks, identifying ways to reduce cost, and creating customized high-quality educational programs that meet the specific needs of our partners.
For more information on how Education, Inc. can develop or enhance programming at your facility, contact us today.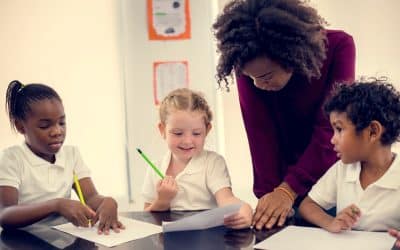 As the start of the school year approaches, many school district administrators...
read more