Fun Hospital-Friendly Fall & Halloween Learning Activities
Halloween is a favorite holiday of lots of children, which can make spending time in a hospital or treatment center even harder for some students. Student-patients may be anxious about whether or not they will be admitted during Halloween, sad that they may be missing out on activities at school, or even distracted by the anticipation of a day filled with candy and costumes. By providing meaningful learning opportunities in the classroom that channel their excitement or respond to those concerns, students can be actively engaged in activities to ensure they are not missing out on the fall fun!
By encouraging engagement in activities that are similar to what would be experienced in a student-patient's home school setting, fall-themed curriculum helps support the goal of normalization for students and provides something fun to look forward to during their day!
Here are a few fun and not-so-spooky ways to incorporate both fall and Halloween into the classroom—in a manner that promotes learning & academic progress, safety, and fun, all at the same time.
Spooktacular STEM Challenges: STEM challenges are a great way to pique the interest of student-patients and help them develop critical 21st century learning skills. These Halloween-themed challenges from Student Savvy help students think critically while creating fun projects such as a catapult and constructing a scale to balance and measure, while bringing a bit of halloween flair to the table.
Halloween Science Exploration: Halloween is a great time to get gooey with science experiments, and by taking on the role of a scientist, students can learn about topics while having fun. Schooling a Monkey has a great Edible Bacteria project that is perfect for teaching students about the various types of bacteria, and can either be eaten (if the unit allows), or discarded without worrying about chemicals (or actual bacteria) in a hospital environment.
Fun Halloween Activities for Younger Students: Bringing playful monsters in the classroom is a fun way to add some festivity to the class environment. They make the perfect Halloween addition to math & science lessons, such as these great Monster Math & Self-Inflating Ghost Balloon activities.
Pumpkins also make a great tool for teaching younger children. Colorful worksheets and visuals like these from A Neighborhood Kindergarten can help students learn about the parts of a pumpkin, and the life cycle of a plant.
Fall Related Learning Activities: October is a great time to do lots of fall related learning activities as well, which opens up the possibilities both for units that prefer not to have activities that correlate to holidays, or for students that are perhaps triggered by thinking about spending a holiday in the hospital.
One great way to tie in fall activities is to center activities around a book. One example of this is this set of fun apple themed STEM activities done in conjunction with the book "Ten Apples Up On Top". Other great topics for book (from which many activities could be brainstormed) include pumpkins, leaves (and changing of the seasons), and history of fall or Halloween celebrations across cultures.
As with any science experiment or lesson, it is important to understand and follow all unit rules set by the hospital to ensure that materials and themes are appropriate and allowed. While many Halloween activities focus on scary topics or characters, it is best to keep curriculum topics fun and positive, for successful inclusion of each student. Fall and Halloween are a great time to bring some excitement and exploration into the hospital classroom, making it a great class for both teacher and students!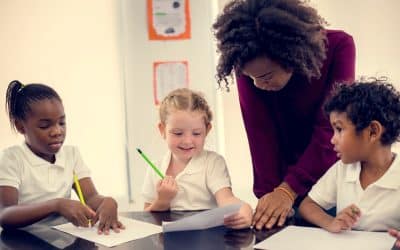 As the start of the school year approaches, many school district administrators...
read more