How to Reduce the Hassle of Managing Teachers in Your Hospital or Behavioral Health Clinic in 2017
2017 brings a number of interesting challenges to hospitals and behavioral health clinics. From rising costs of healthcare to changing business models and a growing talent shortage, 2017 looks to be a year when you're spending more of your time figuring out how to streamline new processes while reducing costs and improving value to your community.
One area where many hospitals and behavioral health clinics are able to provide value is that of student-patient education. Essentially, student-patient education is comprised of your ability to provide the space, talent, lesson materials, and relationships to support the education of a child in your care. Space might include a dedicated classroom within your hospital or even access to a break out room. Talent includes certified and specially trained teachers, tutors, and education administrators to create programs and plans for student-patients. Lesson materials will be student-proven programs, classwork, and supplemental materials to drive student learning and engagement. Relationships will include those between the student-patient, parents, hospital staff and administration, teachers and tutors, federal and state program administrators, and schools and school districts.
The Value of Education Programs for Student-Patients
All of these must come together to deliver the best education program for student-patients in an effort to both help them achieve normalcy and return to their day-to-day education. Additionally, it's required by federal law that children who are able to, receive education even when they aren't able to attend school. These combined offer a tremendous opportunity to hospitals and behavioral health clinics to provide both value and service to the community.
It's important to note here that a robust team is required to deliver educational activities to a student-patient. While each team will be unique and vary, the services and ecosystem should be comprehensive. Typically, teams are comprised of a Director who is in charge of managing day-to-day activities, a School Liaison who facilities interactions with teachers, schools and school districts, a Program Coordinator who supports the director, liaison and teachers in ongoing activities and administrative functions, and Teachers who are responsible for specific grade/competency ranges.
While some hospitals and clinics outsource education programs, others opt to build internal competency, infrastructure, and programs. Regardless of the route you choose, you will be faced with incorporating education with healthcare, two industries that traditionally are disconnected. Having developed successful hospital education programs for more than 20 years, we have a few tips and tricks to help you manage education programs and teachers in-house.
Four Tips for Managing Teachers in Your Education Program
1. Hire the Right Person for the Job
In our experience, every single one of our clients recognize that, just like educators are not healthcare professionals, healthcare professional are not professional educators. They aren't up to date on building lesson plans and curriculum, they don't have the relationships with the school districts, and they don't have the experience to hire qualified teachers.
It might seem that hiring a teacher is pretty straightforward, but finding one that can meet the demands of working with children who are healing or dealing with a behavioral issue can be challenging. How do you find someone who has the right temperament?
It's key that you look beyond strict teacher credentials and find teachers who have a high level of adaptability, flexibility and tenacity. For example, our teachers are recruited from high-stress teaching environments, and held to a very high standard (Topgrading), to ensure that they can educate and engage, but also deal with the added complexities of a healthcare environment like yours.
2. Have Proven Curriculum
The classroom curriculum for the student-patients is one of the most important aspects of the in-house education program for your hospital or clinic. To support your teachers in the best way possible, keep these seven tips in mind:
Your hospital education curriculum needs to be engaging;

You should use reputable resources for course material;

Make sure you keep material aligned to age and grade level;

Create material that gets your teachers excited and passionate;

Structure the lesson to be inclusive;

Create a library of kid-approved lessons;

Avoid material that might be a trigger for undesirable student-patient behavior;
Sticking to these tips will help make sure that your student-patients are engaged, and your teachers have materials to support that.
3. Provide a Flexible Teaching Environment
One of the key differences between teaching in a typical classroom environment and teaching in a case-based environment is the ability of the teacher and student-patient to engage. Injured or recovering/healing student-patients may have a tough time concentrating on lessons, while student-patients in behavior health settings have existing conditions that make learning a struggle.
In each of these cases, the ability for teachers to have the flexibility and support to teach beyond the lesson—or develop novel ways to connect the education to a specific student's needs and interests—can help a teacher connect, engage, and—ultimately—teach and reach that child.
4. Facilitate Communication
Finally, it's important that teachers be able to have the ability to communicate with parents and teachers of the student-patient. Parents can provide a strong support mechanism for students, while having access to schools and teachers have a number of benefits. For example, if a teacher is able to communicate with parents and teachers to get actual school work through the use of books and assignments from the home school, it helps a child stay connected (even remotely) and also in many cases, earn credit for the work they're doing.
Wrapping Up
These four tips can help you manage teachers in an environment that can be more stressful than your typical public classroom. By hiring the right people, providing a proven curriculum, having a flexible teaching environment, and facilitating communication, you can help your teachers perform at their best.
In focusing on helping teachers do their jobs, it's important that we don't forget the most important part of the equation: to help children heal. Providing them with specialized instruction can help them along by providing normalcy, keeping them connected with their "normal" school lives, and easing their transition back to school.
If you would like assistance in establishing a student-patient teaching program within your hospital or behavioral health clinic, contact us today.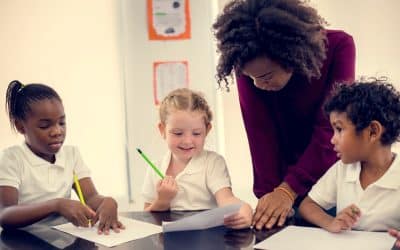 As the start of the school year approaches, many school district administrators...
read more