Necessary Components of a Hospital Education Program
Interested in providing your student-patients with a quality hospital education program but unsure of what such a task entails? We've got you covered!
Participation in an educational program while receiving treatment is an important part of a student's journey to recovery. It provides a sense of normalization, and opportunity to maintain academic progress. From a hospital's point of view, having a high-quality, sustainable education program demonstrates a commitment to the care for the whole child, supports families through delivery of services, and qualifies to meet state and other compliance agency requirements.
Creating such a program however, may seem like a challenging task. Here are some of the main, and necessary components of a successful hospital education program.
Teaching Staff
Teachers are the heart of any hospital education program. Having a group of trained, certified and professional teachers or tutors who are comfortable teaching in an alternative environment serves as the foundation of a successful program. By identifying teachers who not only are comfortable in the hospital environment, but who excel in that space, and who are flexible, good-humored, and demonstrate understanding and patience, hospitals and other treatment facilities are able to set their program up for success. It is important to understand the student-patient population's needs and academic levels, in order to find qualified teaching personnel who will be able to work with each child at their individual levels.
Space/Resources
In many hospitals and residential facilities, space is at a premium. Having a dedicated space for classes is an important, though not essential component to creating an atmosphere conducive to learning. Whether tutoring is performed at bedside, or in small groups, each facility will have a different set of needs and requirements. Having a quiet space where students feel like they are in a classroom—when possible—adds legitimacy (in the eyes of the student) to the school program and encourages students to participate as they would in their home classroom. Other resources to consider include teaching and curriculum materials, supplies, technology, and other means of support for students and staff.
Administration
In order to help students obtain credit for attending the hospital education program and to effectively manage such a program, there are certain types of administrative tasks that must be done. Some of these include communicating with school district personnel, handling admission, academic and transition paperwork, requesting and collecting schoolwork for each child or adolescent, scheduling academic classes or tutoring sessions, billing and finance, and documentation of services. Training team members who will be engaged in these tasks, and creating methods for efficiency, are important steps to take when establishing or enhancing an academic program.
Regulatory Compliance
All state regulatory and/or accrediting agencies that provide oversight of programs have requirements regarding the education of student-patients. Identifying, understanding and meeting these regulations is essential for maintaining accreditation as well as reputation.
Collaboration
Teachers, tutors and other personnel associated with a hospital education program understand that their role is part of a larger team at the hospital focused on the successful treatment of a student-patient. It is important to provide opportunities for all involved players, from doctors to child-life specialists to teachers, to communicate and collaborate with one another to discuss and address the needs of each individual student.
Flexibility
An essential component of an academic program is flexibility. A strong hospital education program is one that can handle change, and adapt quickly and professionally, whether it may be a change in surgery time interferring with a scheduled tutoring session, a behavioral incident requiring staff assistance, or space conflicts.
Though not an exhaustive list, these six components are the foundation of any hospital education program. There are many other components that go into building a successful program—but you don't have to go at it alone.
LearnWell is the industry leader in providing high-quality educational services to hospitals and treatment facilities, and has helped partners throughout the country tackle this challenge—all while reducing the administrative load and financial impact that programs have on facilities.
To learn more about LearnWell's programs and services, please contact LearnWell today.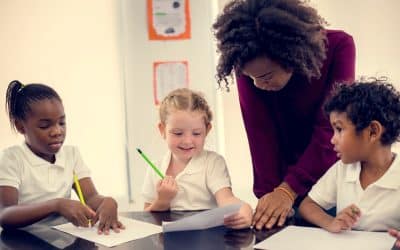 As the start of the school year approaches, many school district administrators...
read more