Science Experiments for the Fall Hospital Classroom
It is finally Fall, and as the leaves change colors and the weather gets colder, a whole new season for classroom STEM experiments opens up! There are many great topics that can be explored during Fall in the hospital classroom—weather, leaves, foods and holiday traditions are just a few of the ways student-patients can connect to what is happening in the world around there.
Here are 7 great Fall related science experiments that would work well for the hospital classroom. They require minimal prep and supplies and can be adapted for a range of ages from preschool through high school levels. Use these as a jumping off point for a lesson, as a fun opening activity, or to fill in the blanks when students are without schoolwork. They are sure to have a blast and learn something new in the process!
Salt Crystal Leaves – Recreate the look of leaves after the first frost with this easy activity. Requiring only a few simple materials, students can learn about a unique aspect of fall leaves and discuss how weather has an impact on all aspects of nature. This experiment is great for hospital classrooms as the ingredients are readily accessible and are likely considered safe for use.
Explore the Science Behind Pinecone Behavior – Pinecones are a great base for fall lessons. They provide opportunity for discussing nature's circle of life, are great for art projects such as pinecone painting, and are easy science projects as well. This activity helps students use the scientific method to determine why pinecones open and close, and what might force their behavior. It is very simple to set up and perfect for both elementary and upper grade classrooms as it can fit into many different science lessons.
Apple Volcanoes – Volcanoes are one of the most popular and long-standing school science experiments—and for good reason! They are fun to build and even more exciting to set off, with anticipation of the bubbly outcome. Give the traditional volcano a fall twist by creating Apple Volcanoes. This could be used as a prediction based assignment, or just as a fun class opener/closing activity.
Find out how Leaves Breathe – This ready-to-go lesson sparks an interesting discussion in class—can leaves breathe, and if so, how do they do it? This activity requires only a bowl of water, a leaf and some time, and can be turned easily into a full class lesson with the mentioned books and ideas found with this simple experiment.
Apple Races & Gravity – Test the theory of gravity and explore the world of physics by using apples in races and gravity drops. This is an easy to set up experiment in class and requires only a few non messy supplies, making it perfect for the hospital classroom.
Make Pumpkin Slime – Slime is one of those experiments that can be altered in tons of different ways to help add a fun component to a lesson. For fall, consider making Pumpkin Slime with your class, and discussing the chemistry behind the concoction. The addition of pumpkin seeds really make this seem like the real thing!
Dissolving Pumpkin Candy – Many hospital units have a special way of participating in Halloween. Let the fun spread to the classroom by taking some Halloween treats and using science to explore how they dissolve. This is a great activity for observation related lessons and for scientific tracking.
Help students develop critical thinking and other 21st Century Skills by designing projects around these experiments that test and expand their research and observation skills. As always, be sure to run any experiments by the proper team members at the facility to ensure that the materials use are allowed on the unit, and be cautious about any potential allergies.
Fall is the perfect time to explore nature's side of STEM and help student-patients stay actively engaged in learning!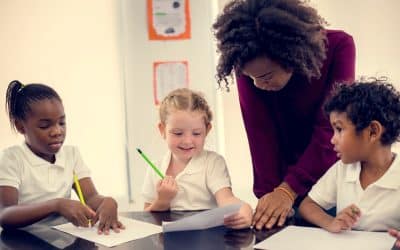 As the start of the school year approaches, many school district administrators...
read more