Teaching Student-Patients During Back-To-School Season
As students everywhere prepare to head back to their classrooms, they do so with a mix of excitement, nerves, and anticipation for the year ahead. While it takes a focused classroom management style to get the excitement levels under control for those students, there is a different group of students who will experience the back-to-school season in an entirely different ways. Students who are hospitalized when school starts—or shortly after the start of the year—will face an much different back-to-school season, and along with it, may bring their own fears, anxieties and frustrations as well.
When a student misses school during the year due to hospitalization, it can have a tremendous impact on the student-patient's ability to keep up with schoolwork and feel connected to their classmates. At the beginning of the year, these concerns are even more amplified. Concerns may include:
Missing out on the beginning of the year activities
Meeting their new teacher (and wondering what the teacher will think of them when they come back)
Feeling left out of social activities with friends
Having to return to school not knowing who is in their class or what it will be like
Getting books and other new materials needed for classwork
Worries over what it will be like returning to school—including where they will sit, who they will hang out with, how much work they will have missed.
Though these are just a few of the troublesome thoughts that could go through a child or adolescent's mind when missing the start of the school year, there are many others that can arise as well, including additional parent concerns.
Tips for Back-To-School Season in Hospital Classrooms
Here are a few ways to help encourage student-patients at the beginning of the school year, and how to set them up for a successful transition back after discharge.
Build excitement in the hospital classroom for the beginning of the school year as well, and plan some fun activities to generate interest. Simple getting to know you activities and safe experiments will help them feel re-engaged in the learning process.
Communicate directly with the student-patient's school to obtain their books, class materials and assignments starting from the first day of admission, even if prior to school starting. This will help the teacher gather materials right away and allow the student to stay abreast of what is happening in the classroom. The beginning of the school year is a very busy time for administrative offices, so be sure to follow up with requests or request to speak to the student's teacher directly to avoid any delays.
If schoolwork is not available, or if it will take a few days to gather and send, plan for highly engaging curriculum and activities that are at the student's level and consistent with the current course load. This will help ensure the student obtains credit for work done in the hospital education program and that they are able to make academic progress at their individual level.
Acknowledge the student-patient's fears and concerns, and express both understanding for their feelings and your commitment to making it a successful start of the school year, no matter where they are located. Brainstorm with the student the best ways to address their concerns, and be sure to communicate with parents about progress and how they can help in obtaining materials as well.
Work closely with the hospital's treatment team and other key players to plan for a successful discharge and reintegration into the school setting. Be sure to mention any concerns the student-patient has brought up, in order to allow their home school and teachers to prepare and address those concerns straight away.
By creating a hospital classroom environment that celebrates the beginning of the school year and acknowledges the difficulties student-patients may have during that time, hospital educators and administrators can help students through this challenging time, and prepare them for a successful year ahead.
For more ways to enhance your hospital education program, contact LearnWell today.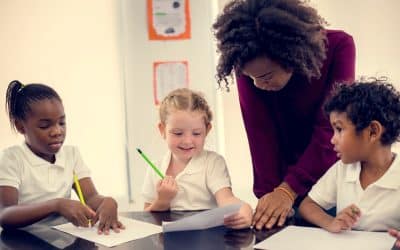 As the start of the school year approaches, many school district administrators...
read more