The Benefits of Certified Teachers and Virtual Tutoring for High-Need Students
In today's fast-paced world, many school districts are turning to our virtual tutoring services to help provide their students with the personalized attention and support they need to succeed academically. Certified teachers can provide one-on-one or small group instruction that is highly qualified and standards-aligned, offering an excellent benefit for students who are struggling with unfinished learning and remediation. Whether they require homebound instruction, customized scheduling, or support to stay connected with their educators, students can discover the joy of learning and become excited about school again. In this blog post, we will examine the many benefits of virtual tutoring with certified teachers, and how it can help high-need students master concepts, build self-confidence, and excel academically.
One of the significant advantages of virtual tutoring with certified teachers is the customization of scheduling options. The curriculum can be tailored to meet the specific demands of each student, allowing them to work at their own pace and receive the support they need when they need it. Moreover, some students may struggle to complete their work in a traditional classroom setting, either due to social anxiety, learning differences, or other reasons. Virtual tutoring provides a safe, supportive environment where undivided attention from the tutor can help the student better understand the subject matter and build their confidence.
Another critical benefit of virtual tutoring is that it can serve as a loss mitigation strategy for schools and districts. Over the last year, many students have experienced significant disruptions to their learning due to the COVID-19 pandemic, ranging from technology issues to family strife. As a result, the level of unfinished learning and remediation required for students has increased exponentially. Virtual tutoring can help schools and districts mitigate these losses and provide necessary compensatory services to help students catch up academically.
Virtual tutoring also provides students with equitable access to highly qualified educators who are skilled in the subject matter and can provide expert guidance and support. This access can benefit populations that may have previously been underserved, such as rural or remote communities. With the help of virtual tutoring, students can build a relationship with their tutor that is tailored to their individual needs and learning style, enhancing their experience and helping them thrive academically.
Whether they are in elementary school, middle school, or high school, virtually tutoring with certified teachers offers students the chance to learn at their own pace while receiving personalized attention and support. The tutoring sessions can be standards-aligned, making it easier for students to make progress in their coursework and keep up with the latest trends in education.
With virtual tutoring and certified teachers, high-need students can achieve academic success. Whether it's for unfinished learning or remediation, virtual tutoring offers easy, convenient, and personalized learning opportunities that allow students to stay connected with their educators and build the self-confidence they need to excel academically. School districts and administrators across the country are recognizing the immense benefits of virtual tutoring as a means of providing equitable access to highly qualified educators and personalized learning opportunities for high-need students. If you have yet to try virtual tutoring with certified teachers for your district, we strongly encourage you to explore this option and discover the benefits that we can provide for your students. Click here to fill out our referral form and submit your first student today!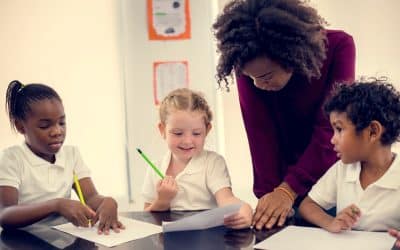 As the start of the school year approaches, many school district administrators...
read more