The Value of Hospital Tutoring for Families of Student-Patients
When children and adolescents are hospitalized, it affects the entire family. Hospital education services such as tutoring or classroom instruction benefit the student in many ways by helping them stay engaged in academics while away from school. However, they are not the only one that benefits from such programming. Parents and families also find value in and benefit from hospital education opportunities.
Stress on Families of Hospitalized Children
Hospitalization of a child is a major cause of stress for parents and families. It can also lead them to feel helpless, have difficulty coping with the situation, and unsure of how to improve both the circumstances and the outlook that they, their child or other family members may have.
One thing that has been proven to help families in these situations is hospital tutoring.
How Hospital Tutoring Benefits Parents of Student-Patients
Studies have shown that parents or caregivers who encounter high levels of stress and anxiety might experience more managed perceptions of stress if their child engages in certain services during a hospitalization- with one of the highest factors being receiving education services.
When families have the opportunity for their child to receive tutoring services during admission, caregivers feel less pressure regarding sustaining the important role of education in a child's life. Knowing that their child is still able to complete schoolwork and remain up to date with classes gives them one less thing they need to worry about, and allows them to focus their time and energy on more critical matters.
Parents in the studies also reported feeling less irritable and having higher emotional control when their children were academically engaged. This not only provides a more clear outlook and ability to cope, but helps parents to emotionally support their child or siblings of a student-patient.
Here are 3 other ways that hospital tutoring is valuable to families
Hospital tutoring helps families provide a sense of normalcy for their children, even when other things are out of their control.
Children understand and thrive on the routine that school brings. Incorporating academics into the hospital schedule helps student-patients make sense of their environment, and also provides a distraction from the ongoing medical treatment. Seeing their students practicing math or literacy skills helps parents recognize that their child, though facing a difficult illness or disorder, is still capable of engaging in school activities, and that adds to the sense of normalcy for the parents as well.
2. It provides hope, and aides in the reintegration process when the student is ready to return to school.
A commitment to making academic progress while hospitalized reassures both the student-patient and the family, and provides hope for recovery. Reintegration back into school can be difficult for a student, especially after a long hospital admission. By continuing academic services through hospital tutoring, families feel better prepared to tackle the challenges of heading back to school, and appreciate the input that hospital teachers, doctors, and other support staff can provide to the student's school in preparation for their return to the classroom.
3. Tutoring gives caregivers a break.
Many parents stay in pediatric facilities with their child as much as possible, and may even be sleeping there or in alternative accommodations. They may take on additional roles during that time, including trying to tutor their child if not provided with one, and may feel guilty for taking time to themselves or a break for important self-care.
When a hospital teacher or tutor enters the room, parents know their child is in good hands, and often feel they may be a distraction to their child if they stay. Tutoring sessions provide the perfect opportunity for parents to take some much needed time away, however brief, or to make calls, speak with doctors, or grab a bite to eat. Parents need to be able to take time to themselves, in order to be mentally, emotionally, and physically capable of supporting their hospitalized children.
For hospitals and treatment facilities looking for ways to providing high-quality care and improving patient satisfaction, providing educational services is a great place to start. When families experience the type of care that meets the needs of their children both physically and academically, the hospital also reaps the benefits through positive feedback, recommendations, and rankings. It is a win-win for everyone.
If you need help starting or improving your hospital education program, Education, Inc. is here to help. Contact us today to learn how we partner with facilities to meet the needs of student-patients and their families.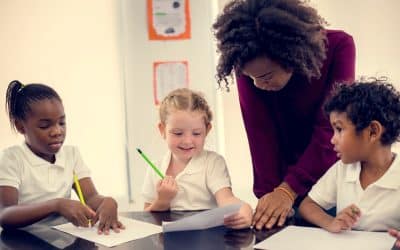 As the start of the school year approaches, many school district administrators...
read more