Virtual Tutoring: An Innovative Way to Support High-Need Students
In the wake of the pandemic, school districts worldwide are adjusting to provide effective virtual learning experiences for their students. With safety concerns and uncertain times, virtual tutoring has become popular among educators in delivering individualized and targeted instruction to high-need students. This blog post explores the benefits of LearnWell's virtual tutoring services, how it supports students, and what educators and school districts can do to offer these services to their students.
Virtual tutoring provides one-on-one or small group sessions with highly qualified, certified teachers who offer direct remediation and instruction to students seeking help in their schoolwork. This type of instruction allows students to work at their own pace while remaining aligned with standards. By providing customized scheduling for each student, virtual tutoring ensures that they have the undivided attention of their tutors and can build the self-confidence necessary to master concepts and excel academically.
Homebound instruction is another feature of virtual tutoring that can support students who face physical constraints or who are not in a traditional classroom environment. The director of special education or the director of pupil services in each school district can make necessary adjustments and provide equitable access to virtual tutoring services. Since the curriculum is standards-aligned, school districts can support students' unfinished learning or provide remediation to improve their grades.
One of the benefits of virtual tutoring is that it promotes personalized learning. Students who receive one-on-one instruction can work on the areas where they need the most support, making them excited about school and learning. Tutoring sessions can provide students with compensatory services that offset instructional time that students encountered during school closings. The loss mitigation approach allows educators to work with students through innovative modalities and stay connected with students and their families during the pandemic.
School districts can leverage our virtual tutoring services to provide students with the support they need. Educators can tailor the instruction to the student's individual needs and interests, making learning fun and accessible. Virtual tutoring can be highly effective, especially for students who may need additional support in building their self-confidence and academic skills. Teachers with expertise in different subject areas can offer specialized support in English language arts, math, and science, among others.
Virtual tutoring has become a critical tool in helping school districts support high-needs students who face different challenges in learning. Through one-on-one or small group instruction, students can receive undivided attention from master concepts and build self-confidence. With the expertise of certified teachers, virtual tutoring sessions provide standards-aligned remediation, personalized learning, and equitable access to students. School districts can also use virtual tutoring for loss mitigation during the pandemic while staying connected with students and their families. As virtual tutoring continues to evolve, educators and school administrators need to leverage this innovative approach to support their students. Click here to fill out our virtual tutoring request form and to learn more about how our virtual tutoring services could benefit your students!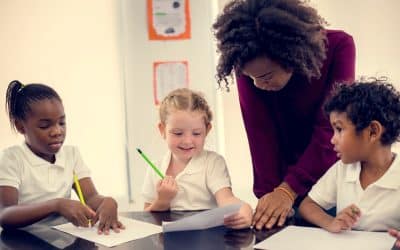 As the start of the school year approaches, many school district administrators...
read more