What is a Student-Patient?
…what are their challenges, and how can we address them?
Whether you're a program administrator at a hospital, behavioral health center, rehabilitation center, a concerned parent, or a member of the school system, chances are that you're dealing with a child who needs some sort of medical care—and is faced with the challenges these student-patients confront when continuing their education during these difficult times. We're highly involved in this space and want to share some of our insight on student-patients, their challenges, and a few ways you can help them maintain normalcy while continuing to accomplish educational goals.
Student-Patients: A brief overview.
A student-patient is a child who has been hospitalized due to a complex disorder or illness, a mental, emotional or behavioral disorder, or who is undergoing physical or occupational rehabilitation. There are many situations why young children and teens need to be hospitalized and miss school for extended periods of time. They may have a congenital birth defect, traumatic brain injury, cancer, a musculoskeletal condition, spinal cord injury, or liver failure and need to undergo treatment. Some students need to be hospitalized or stay home because they struggle with a mental health, emotional or behavioral disorder like ADHD, bipolar disorder, PTSD, severe anxiety, schizophrenia, or depression. According to the Association for Children's Mental Health (ACMH), one out of five children and teens have been diagnosed with a mental, emotional or behavioral health disorder and one in ten have a mental health condition severe enough to affect their ability to function in school and in society. These children have good days and bad days. When things aren't going well many of these children must take time off from school to manage or treat their disorder. "In addition, youth with emotional and behavioral disorders have the worst graduation rate of all students with disabilities. Nationally, only 40 percent of students with emotional, behavioral and mental health disorders graduate from high school, compared to the national average of 76 percent. And over 50% of students with emotional and behavioral disabilities ages 14 and older, drop out of high school. This is the highest drop out rate of any disability group," ACMH states on their website.
Children with a complex disorder or illness may be absent from school for an extended period of time. Some only miss a few days a month and others can miss an entire school year. For example, student-patients undergoing dialysis may be absent two to three times a month. This group tends to need tutors more often because of the constant disruption in their education. Students undergoing cancer treatment may be out for several months. Needless to say, student-patients undergoing treatment tend to fall far behind in their education, since they are unable to participate in the classroom and keep up with their schoolwork.
Student-patients face a number of education-related challenges.
Because of illness, lack of consistent schedule, and lack of integration between school systems, tutors, and medical organizations, student-patients may face an uphill battle in regards to maintaining normalcy and education continuity.
These include:
Missing daily lessons for each subject
Difficulty staying on top of assignments
Not being well enough to do their homework
Too ill to stay engaged in the curriculum
Risk of being held back a year due to so many absences
In addition to the above, student-patients who have a mental, emotional or behavioral disorder face their own challenges:
Most education programs lack structure, consistency, and quality, causing many kids to act out
Education programs do not engage the student when in the classroom
Most younger children and teens don't want to be in school because the education program is not very engaging
Many resist tutoring
Schools have limited resources to help students struggling in a public school setting
There are also challenges for parents, healthcare providers, and schools:
Families carry the burden of coordinating tutoring services on their own as well as manage their child's medical care
Hospitals and rehab centers are not experienced in coordinating continuing education; nor do they specialize in designing curriculum and finding appropriate teachers and tutors
Hospital staff are not experienced in hiring and recruiting teachers and tutors
Some schools do not participate in helping their students stay on top of their education and many teachers don't send assignments home
Parents may not be able to afford to pay for private services since many schools do not cover the cost
Many teachers and tutors that are hired do not have the experience to work with children under stressful situations, resulting in high teacher and tutor turnover rates
Hospitals don't have enough tutors to meet the needs of all their patients
So what do student-patients need to succeed in school?
They need an education program that works around their treatment schedule and allows some flexibility when they are not feeling well enough to learn. They need help managing their schoolwork during treatment, including individual help with certain subjects that may be challenging to learn outside of the classroom. Schools, parents, and medical providers need to communicate with each other and collaborate together to ensure a student's success.
Ways you can help student-patients succeed in school:
Hospitals, mental health treatment facilities, and physical/occupational rehabilitation centers can create an educational program that is flexible to address each student-patient's individual needs. They can also create a sense of normalcy for these kids by regularly scheduling "class time" and offer school-based curriculum where a student can receive credit for subjects they have missed. There should also be an effort to replicate a classroom environment to help students get into the right mindset.[/vc_column_text][divider line_type="Full Width Line" line_thickness="1″ divider_color="default" custom_height="60″][vc_column_text]
Other ways to help support student-patients educational success:
Provide a program that can coordinate with school administration and teachers so patients receive their homework
Make sure completed homework is returned to the teacher on time and to negotiate for additional time to turn in homework if needed
Develop curriculum that is similar to the curriculum being taught in the child's school and bring that curriculum to the child
Bring in certified teachers and tutors to teach school-based curriculum
Identify and hire qualified teachers and tutors who can work with a child under severe stress
Hire teachers who are qualified to teach higher level courses, including physics, algebra, chemistry, and biology
Ensure that the curriculum complies with and meets state education requirements
Develop education curriculum specifically tailored to the child based on his academic ability and health situation
Design skill-based activities to engage children who are very ill
Create an education plan to help the child smoothly transition back to school
Many healthcare providers are looking for someone to remove the burden of managing an educational program on top of their healthcare responsibilities. Education inc. relieves this burden by managing the entire educational process from start to finish; providing high-quality education programs tailored for each child and developing school-based curriculum where students can receive credit towards the classes they have missed in school.
Education inc. offers certified teachers and tutors qualified to teach children in high stress situations and the company also communicates and works with school administrations to ensure all student-patients receive the resources they need to continue their education. This enables students to receive instruction and support while they undergo medical treatment in hospitals or at home and provides a smooth transition back into the school system.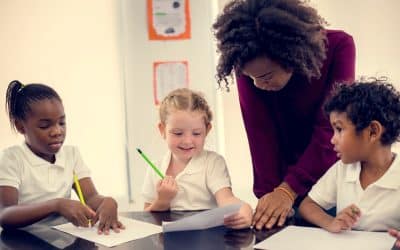 As the start of the school year approaches, many school district administrators...
read more