A Year in Review at LearnWell: Looking Back at 2020
Every year in December, we like to look back to reflect upon everything we have been able to accomplish throughout the year. 2020 has been a year like no other, with COVID-19, social movements, and an historic election causing the world as we once knew it to be stretched to its limits.
While students, families, educators, districts, and mental health professionals have all faced unprecedented challenges this year, they have also persevered to make great strides in virtual learning, educational equity, and social and emotional learning. Here at LearnWell, we have also made the best of a challenging year and are poised to embrace a new year with all of the changes it will bring.
Reflecting on 2020, LearnWell has had many exciting moments developing new partnerships, expanding services, and working to create helpful resources for educators, mental health hospitals and facilities, and families.
In September, LearnWell announced an expansion of services through an agreement with Comprehensive Counseling LCSWs, a New York-based counseling practice. With this acquisition, LearnWell will be able to support the continued growth of Comprehensive Counseling as an affiliate company and independent counseling services practice to offer a more holistic set of services––including virtual counseling––to partners in school districts, hospitals and treatment facilities.
Later in September, we welcomed Ardena White as Vice President of District Mental Health Partnerships. In this position, Dena will shepherd the future development and management of relationships within school districts and their surrounding communities.
In October, we shared the results of a survey we conducted among 220 district-level educators about their student mental health initiatives, related concerns and goals for the 2020-21 school year. The survey found that more than 87% of educators felt that the current COVID crisis made addressing student mental health needs more important than in previous years. Additionally, more than half (56%) of respondents stated that individual school counselors were responsible for student mental health initiatives, which can create a challenge in districts with fewer than one counselor per every 250 students––the minimum ratio recommended by the National Association of School Psychologists.
This year we also created and shared many new resources to help healthcare facilities, school districts and families as they support students throughout the continuum of mental health care. Our white paper "Addressing K-12 Students' Emerging Mental Health Needs" can help educators learn how to respond to students' anxiety and stress. Furthermore, our Mental Health Needs Evaluation Tool can help school staff determine if students are in need of additional mental health screening and treatment. And finally, the LearnWell Blog is filled with more in-depth information about LearnWell's services and industry trends.
In the news, LearnWell Vice President of Counseling James Hickey was featured in SmartBrief discussing some of the warning signs of emerging mental health needs in K-12 students to guide educators and families in supporting students. Additionally, LearnWell CEO Collin Earnst sat down with Kevin Hogan on the Remote Possibilities podcast to discuss the challenges schools are facing when it comes to supporting students' emerging mental health needs.
We have so much to be grateful for in 2020, and we are looking forward to the exciting new opportunities that 2021 presents. We hope you all take the time to reflect upon the impact you have made on the students in your life and the support that you have provided to their mental health and well-being during this challenging year.
On behalf of all of us at LearnWell, we want to wish you all a joyful holiday and a happy new year!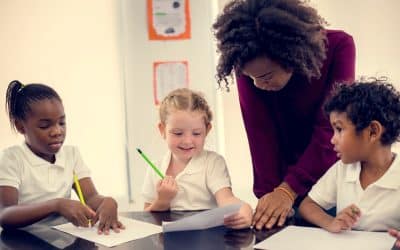 As the start of the school year approaches, many school district administrators...
read more