5 Tips for a Successful School Year Launch in Hospital Education Programs
As students and teachers everywhere begin to gear up for a new school year, so do hospital education programs. Many programs may have taken a break over the summer, or only worked with students who require year-long services based on IEP status. For those that did continue regular programming, there is a noticeable shift once fall approaches, as students settle back into the calendar routine of the school year.
Taking the time to review necessary programming components, changes and improvements is important for any educational program at the start of the new year, as is making enhancements to curriculum, materials, teacher training, and administrative processes. To help the year start off on the right foot, here are 5 tips to ensure a successful start of the school year in a hospital education environment.  
Spend a few days prior to the start of classes (or chunks of time if programming has continued during the summer) to clean out old materials, organize curriculum files, and establish dedicated spaces for materials in the classroom. The environment plays a major role in student comfort and learning, and organization will help teachers quickly and effectively service the needs of the students.
Prepare engaging tiered lessons for the early weeks
The start of the school year is often spent going over classroom procedures, getting to know you activities, and testing for current performance levels. As a result, it may be difficult to obtain schoolwork from sending districts in a timely manner, or obtain enough work to keep student-patients occupied. While teachers should always have lessons prepared ahead of time, the start of the year is important to set the right tone and provide engaging activities that will help get to know students while providing them with credit-worthy academics.
Re-establish communication with local school districts
In the lead up to a new school year, there are often changes in personnel and administrative procedures. By taking time to reach out the school districts contacts, hospital teachers and education program managers can ensure contacts, contact information, and procedures are up to date—therefore reducing downtime once students arrive in need of services. This is also a great time to mention teacher training and professional development, and improvements to hospital education programming, to help districts see the value of programming.
Determine Social-Emotional Learning priorities for the upcoming year
As students enter the hospital facility requiring medical attention or while in crisis, it is important to continue to provide for their social-emotional needs in attention to their academic ones. Take time to meet with the treatment team to determine priorities, and identify how the classroom teacher can support the social-emotional learning needs in a respectful and appropriate way during classroom time.
Provide training and help new teachers establish successful routines
A hospital classroom teacher has many different jobs, from instructing classes to communicating with parents and schools, and completing tracking and administrative paperwork. Teachers often have to undergo facility specific training as well. For new teachers, it can be a different type of work environment or set of expectations, and they may require assistance to arrange their schedule accordingly. Veteran teachers can provide key insight by sharing their strategies for fitting everything into a daily routine, and provide support in learning the administrative process. As newer teachers become more comfortable with their roles, they will be able to identify routines that work best for their classroom and daily schedule.
The start of the school year requires diligent planning and preparation to ensure a smooth start. By taking time to prepare materials, classroom space, and teacher tasks, hospital education teachers and staff will be ready to meet the unique challenges of student-patients when programming starts.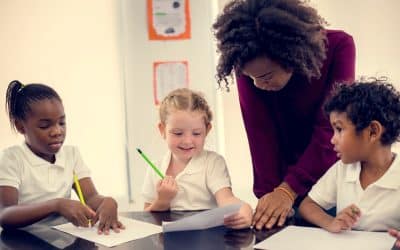 As the start of the school year approaches, many school district administrators...
read more