Appreciating the Unique Strengths of Hospital Teachers
As Teacher Appreciation Week draws near, it serves as an ideal time to reflect on the members of the team who truly dedicate themselves to making the classroom great—the teachers. In the hospital or treatment center environment, teachers spend countless hours preparing, teaching, assessing and reflecting on how to continually improve programming for school-age patients—all while facing unique challenges.
Here are just a few of the top characteristics that make hospital teachers so valuable, and why they deserve to be celebrated:
Flexibility
Teachers across the board need to be flexible to deal with classroom interruptions, changes in schedules and a growing to-do list. Hospital teachers, however, require an immense amount of flexibility given the unique nature of the job. Working in an alternative environment, teaching to new school-age patients on a regular basis, and collaborating with a larger treatment team means every day may be different from the last.
Hospital teachers recognize the importance of being flexible in all circumstances and figuring out how to make the most out of any situation.
Creativity
In any given hospital classroom, there may be some school-age patients who bring their own work, and others who just arrived that day without any clarification on reading level, school expectations or course load. There may be students eager to maintain their academic progress and those who very clearly express their displeasure in attending school while receiving treatment.
A hospital teacher's job is to try to reach all of these students, and ensure they are actively engaged and making appropriate progress while away from school. That requires creativity, both in the planning and delivery of lessons and in the methods used to build a connection quickly with incoming patients.
Classroom environment and restrictions on supplies and materials due to safety or health concerns also require an enhanced level of creativity to get the job done in a way that leaves both students and school districts satisfied.
Compassion
The school-age patients receiving academic services while admitted are often experiencing huge, life-altering events that can impact the ability to prioritize education.
Knowing the importance of education during times of crisis or admission, hospital teachers must navigate the waters between respecting the challenging circumstances a patient may be facing and the need to help lead them in sustaining their academics—as well as helping families understand the value it can bring during difficult times. Often times, they are also working with individuals without knowing a great deal about their past or current circumstances—something that also requires compassion and understanding.
This Teacher Appreciation Week, we salute the hospital teachers who are dedicated to providing a high-quality education for children in need. Flexibility, Creativity, and Compassion are just a few of the many qualities that make the work of hospital teacher stand out.
Thank you to all who teach!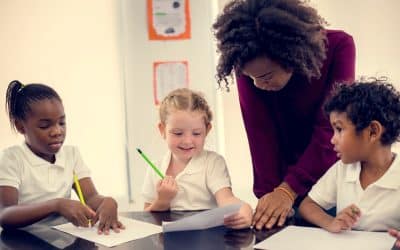 As the start of the school year approaches, many school district administrators...
read more