What is the Role of Education in the Recovery of a Child?
Often, when a child is ill or needs behavioral health treatment, education is the last thing on a guardian's mind. They're focused on the day-to-day management of their child's care: communicating with doctors and nurses and easing their child's fears during his or her hospital stay.
During and after treatment, the focus is on the child's recovery so they can go back to being a kid: playing with their friends, enjoying family time, and transitioning back to school.
The moment a child walks through those hospital doors they, become a student-patient, who not only has to deal with their illness, but also keep up with their education. It can be extremely challenging for guardians to manage their child's treatment, recovery, and education all while helping them to retain a sense of normalcy during this difficult time.
How Hospitals and Behavioral Health Clinics Help Student-Patients Achieve Normalcy
In a U.S. News health article, the author describes how hospitals are finding ways to help their student-patients.
To put it lightly, it's scary when you find out that your child is sick. It creates a lot of stress and anxiety for families. Kristin Wikel, a teacher who supervises Riley Children's Hospital's school program, states, "when a child is diagnosed with cancer, the single most stressful aspect for parents is handling that news. And the next question, 90 percent of the time, is, 'what about school?'"
In many cases, it's important to continue your child's education. It's also the law. According to kidshealth.org, under federal law, children with chronic or life-threatening illnesses or disabilities are entitled to educational support and may qualify for free services under the Individuals with Disabilities Education Act (IDEA). However, services like Individual Education Programs and 504 Plans are more readily available in the public school system than in the private sector.
Given the types of situations most of these children are dealing with, education can have a positive impact on a child's healing process. Many student-patients must miss extended periods of school, becoming disconnected from their education and social life. They may feel that their teachers and friends have forgotten about them. Some may become depressed and have anxiety about returning to school after treatment. So, it's important they stay engaged. KidsHealth authors recommend that student-patients stay connected via online social networking sites, email, instant message, text messaging, and talking on the phone with classmates, friends, and teachers. They also state that "staying connected to school bring academic, cognitive, psychological, and social benefits." 
There are numerous reasons why children must be admitted to the hospital for treatment. Some kids may be battling cancer and need chemo. Others may need to visit the hospital a few days a month for kidney dialysis. A child with a disability may need regular physical therapy treatment.
On the other side, children who struggle with a mental, social, or behavioral illness, like bipolar disorder, depression, or post-traumatic stress disorder (PTSD) may miss school for extended periods of time to treat or manage their condition and minimize stressors.
According to an article on Nationwide Children's, "stress is a common part of every child's life. A certain amount of stress is normal, but too much stress can be unhealthy… When a child is ill or in the hospital, it can be an especially stressful time for the child."
Children of different ages experience stress differently. Toddlers and preschoolers may experience depression by becoming fidgety and restless, hyperactive, whiny, or by displaying demanding behavior. They may also have tummy aches or have trouble sleeping. Some children may even regress; a toddler who is potty trained may start having accidents.
The authors of Nationwide Children's organization also mentioned that older children and teens experience depression differently than younger children. They may be sad or withdrawn, not eat very well, have difficulty sleeping, or feel that their situation is hopeless. Some may have emotional outbursts or physical symptoms like abdominal pain, headaches, or chest pain. Older children may also regress by sucking their thumb, wetting the bed, or becoming very clingy.
While a hospital stay will certainly address these symptoms and others, it can also be very disruptive and potentially affect normal childhood development. This can be difficult and stressful for a child at any age. Sick children may be afraid and not understand why they are in the hospital. They may miss their friends and family. Some may even be bored. Younger children may be scared of needles or surgery, worried about how painful it will be. Older children may be concerned about their privacy. Teenagers especially are anxious about long-term effects of their illness, according to AboutKidsHealth.
A properly structured education program will help student-patients achieve normalcy by allowing them to continue to learn, have a schedule, interact with others socially, and ease the transition back into school.
The U.S. News online health article highlights several hospitals that have created programs to help student-patients achieve normalcy.
Riley Hospital for Children at Indiana University Health has licensed teachers on staff for student-patients K-12. Teachers become a liaison between the schools and student-patients, making sure they get their lessons and homework. Some teachers even go to a child's school to pick-up school materials. Children who are well enough can study in a classroom-based setting with others the same age, whereas children too ill to join the class receive tutoring at their bedside.
Riley Hospital also has a "Bear in the Chair" program, for student-patients who miss school for at least two weeks or longer, where a big stuffed bear sits at the child's desk until they return. This ensures patients' classmates don't forget them while they are out of the classroom.
St. Louis Children's Hospital at Washington University has created the Clown Docs program, where professional clowns use humor to help distract young patients from their current circumstances. The clowns make jokes, perform tricks and the patients really enjoy these visits. According to Megan Rennie, St. Louis Children's Hospital's Child Life Supervisor, "their job is to use humor to distract our patients, and their philosophy is that laughter is the best medicine." The hospital also offers yoga therapy to help patients relax and learn pain-management skills.
Mount Sinai Kravis Children's Hospital developed a program called KidZone TV where young patients produce and host live interactive shows that air three times a day within the hospital.
Other hospitals, like Oregon Health & Science University's Doernbecher Children's Hospital (OHSU), help their student-patients maintain normal routines during their stay, so they can continue their studies while away from school. The hospital achieves this through its hospital school program. "We provide students with a reassuring bridge between their home, school, and the hospital," OHSU mentioned on its website. "Our program is enriched by special partnerships with OMSI, OSU Master Gardeners, and MusicRx, who regularly attend our classrooms, providing high-interest and exciting learning opportunities." The hospital connects patients with their peers, teachers, and engaging curriculum, which combats isolation and gives them a sense of normalcy.
As a hospital or a behavioral health clinic, it can be difficult to manage student-patients' treatment and educational needs without an education program in place. A well-rounded education program like the programs at education inc. can help student-patients achieve normalcy while taking on the responsibility of managing an academic program so that hospital staff can focus on the student-patient's health and well-being during treatment. To learn more about how education inc. can help create the right program for your child, visit educationinc.us.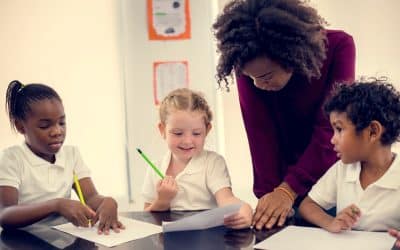 As the start of the school year approaches, many school district administrators...
read more