The Importance of Integrating School into Behavioral Health Care Facilities
As administrators, we know that treating children and adolescents with mental health issues can be quite challenging. We want to do everything we can to help them heal and recover. This is why we must not only focus on behavioral treatments, but also on providing education. Integrating school into behavioral health care facilities is essential to the success of treatment programs. In this blog, we will discuss the importance of school integration in different types of facilities and why it should be given greater consideration in clinical care.
Behavioral health care facilities aim to improve mental health and wellbeing in youth. Across the continuum of care partial, inpatient and residential programs there are a variety of components as part of the clinical day and are fundamental to treatment programs in these facilities. Children and adolescents who require intensive treatment may need to stay in a facility for a varying length of time. Given that the average length of stay can range from days to weeks or months, it is imperative that these children have access to consistent education opportunities. Providing them with an on-site school program is an excellent way to ensure that they remain engaged academically and socially during their treatment.
Psychiatric facilities provide intensive, short-term treatment to people experiencing acute mental health crises. These facilities are typically more intensive, and school integration is often an overlooked part of treatment. As it turns out, school is an effective way to stabilize young patients after a crisis. Therefore, it is important to provide support for children and adolescents through the hospital's school program. Through this, patients can increase their chances of success and recovery.
School is supported by homebound and hospital regulations governed at the state level. While it is up to the state to regulate these laws, it is still essential for administrators to advocate for the inclusion of school programs in behavioral health care facilities. Hospital teachers should always be an integral part of the treatment team, working closely with doctors, therapists, and other staff to provide all-around care for patients.
The length of stay can influence the amount of school time in the clinical day. Since children's needs can differ significantly at different stages of treatment, it is essential to find the right balance between treatment and education. This means that treatment plans should integrate schooling at a proportionate level according to each patient's needs. Thus, an approach tailored to individual patient needs should be established to optimize the results of clinical care.  Here are some guidelines around recommendations of daily school hours at different points in the continuum of care.
| | | |
| --- | --- | --- |
| Level of Care | Average Length of Stay | No. of School Hours/Day |
| Partial | < 14 days | 1-2 hours |
| Partial | > 14 days | 2 hours |
| Inpatient | 7-10 days | 1-2 hours |
| Residential | 30-90 days | 2 hours |
| Residential | > 90 days | 4-5.5 hours |
Integrating school into behavioral health care facilities should not be ignored but should rather be given greater consideration. It is fundamental to the success of treatment programs, and administrators must advocate for the inclusion of school programs in behavioral health care facilities. Through the utilization of an interdisciplinary approach, including schoolteachers as an integral part of the treatment team, and individualized treatment plans, children and adolescents will undergo a holistic recovery process. Educating and treating them as a whole individual is an essential aspect of behavioral health care, and the benefits of integrating school and treatment may have positive long-term implications for patient recovery.
LearnWell is the leading school provider in behavioral healthcare facilities nationwide.  Behavioral health treatment facilities vary greatly based on state regulations, level of care, treatment approach, therefore there is no one size fits all school solution.  To start to explore a partnership with LearnWell it begins with a conversation.  Let's connect, click here to request an education strategy session.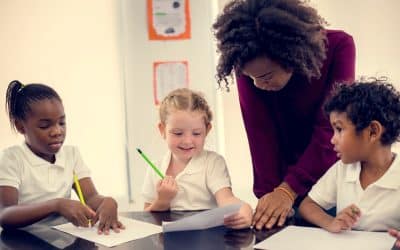 As the start of the school year approaches, many school district administrators...
read more