The Connection Between Mental Health & Academic Success
As society becomes increasingly aware of mental health issues and their effects on how we live our lives, it's important that students are included in this conversation. Children and teens who face mental health needs can experience additional challenges in the classroom. Parents and teachers who are aware of the challenges their students face can help them keep up with their academic progress while providing necessary support.
Although mental health issues like anxiety and depression are well understood, many of those involved in education, from parents and teachers to administrators and school board members, might not always know how to best support students who are facing challenges. At LearnWell, we know that understanding the connection between mental health and academic success can help their support system better understand their needs.
Are Mental Health and Academic Success Linked?
Many children and teens in the United States have been diagnosed with a mental or behavioral health issue. Many more are likely to face undiagnosed mental health challenges. It goes without saying that these challenges can impact students' achievements in the classroom.
Students who face anxiety, depression, substance use disorders, and eating disorders can find it difficult to succeed in a traditional classroom without additional support and interventions. Some of what they might experience includes:
Sadness or hopelessness

Decreased energy or fatigue

Irritability

Nervousness or anxiety

Obsessive thoughts and compulsive behaviors

Difficulty concentrating

Defiant behavior or outbursts

Low self-esteem
Students with mental health conditions might not always be able to communicate their struggles to their teachers and parents. A student who is perceived as a procrastinator might be facing paralyzing anxiety, or a student who falls asleep in class could be struggling with depression.
Poor academic performance can be an indicator of undiagnosed or untreated mental health issues. Having the right supports and interventions in place can help students succeed.
How to Support Students with Mental Health Issues
Students who have the right support for their mental health can flourish academically. It's up to parents, teachers, and administrators to work together to make sure each student receives the opportunities he or she deserves in order to succeed.
Some of the things that teachers, administrators, and parents can do to support students with mental health issues and academic struggles include:
Know the signs of mental health conditions – Other than academic struggles, students with mental health issues can display a wide variety of behaviors and symptoms

Have resources available – School-based counseling and other mental health services can be an important starting point for treatment

Open up the conversation – Giving students the opportunity they need to describe what they are facing can help teachers and parents understand how to help

Reduce stigma in the classroom – Some students can feel hesitant to talk about their mental health for fear of what their classmates can think
Contact LearnWell Today
As students begin to show signs of emerging mental health needs, LearnWell Counseling Services provides supplemental therapeutic counseling support for schools to help reduce the risk of hospitalization or other crises. Our mental health counseling teams provide additional support to school psychologists, guidance counselors, and school social workers to support students who may face mental health needs. Delivered through telehealth video conference, LearnWell Counseling Services provide a convenient and flexible model for students to receive the help they need. 
LearnWell Tutoring services provide one-to-one instructional support via videoconference. Our tutors are specialized in supporting students with mental health challenges and use individualized strategies to help students sustain progress with their classmates.
When students require treatment in an inpatient, residential or day-treatment facility, LearnWell Academics During Mental Health Treatment provides a specialized instructional approach to supporting academic progress for those facing mental health needs. As a key component to clinical programming in hospitals and treatment facilities, our teachers create a bridge between the treatment facility and the student's home district by obtaining the student's assignments and delivering personalized instruction, academic structure, and a relative sense of normalcy for students throughout their treatment.
Provide your students with counseling and academic services to support their mental health. Contact LearnWell today online to learn more.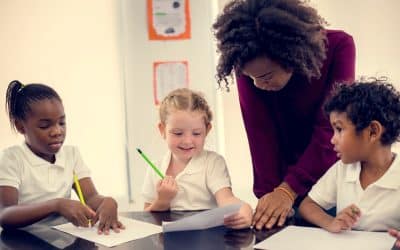 As the start of the school year approaches, many school district administrators...
read more